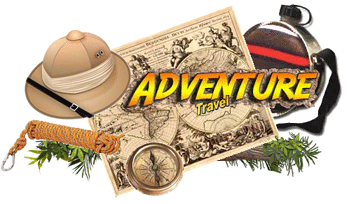 Adventure Travel can mean diffrent things to different people, and can imply varying level of extreme.
There are many more adventurous places and activities that I have never attempted, and some
I am sure that I will never try, but here are some of the trips that we (or I) have taken that I consider
adventure travel, and that we have really enjoyed, and can recommend highly.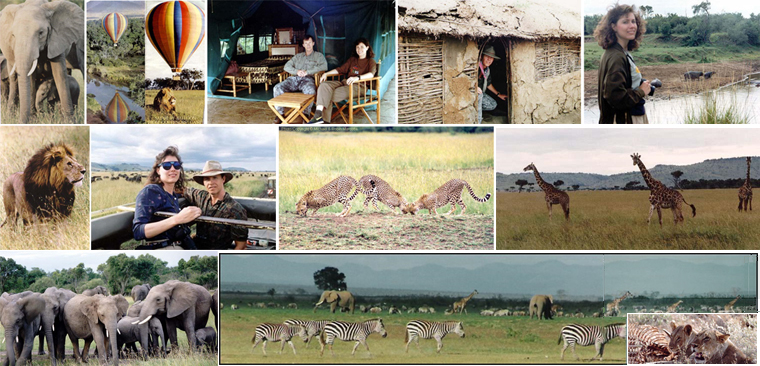 17-day Kenya Safari, in 1992, with the last 5 nights at the Kichwa Tembo tented camp, in the Masai Mara, with a visit
to a Masai village, a hot air balloon ride over the Mara River and the northern Serengeti.


5-week Amazon visit, in 1993 - This one was with 4 other team members - I went swimming in the Amazon River
(perhaps not the best idea, but no mishaps), went for nature hikes on Mexiana Island and at Maruda, caught a half
dozen piranha, and then carefully canoed for a couple of hours the following morning, up the same piranha-filled
igarape on the Ilha de Marajó, where we slept in hammocks (no eco-resorts existed here, yet), and the a few days
later we took a 25-hour steamer trip up the Amazon to the Caixuana Biosphere and Research Center, and much more.


,Shark-feeding dives in Moorea and in Bora Bora, in 1994 and 2000, respectively. Just Awesome!


2-week Peru trip, in 1999, climbing Machu Picchu peak, and visiting the Inca ruins below, as wells as those at
Sachsayhuaman, Tambo Machay, and Cusco, then a 4.5 hour boat ride up the Tambopata River into the outskirts of
the Madre de Dio jungle, to the heavily-restricted Tambopata Reserve, where we spent 5 days, hiking and enjoying
the rain forest solitude, flora, and fauna. Our excursions included a night-outing boat trip along the banks of
the Tambopata, looking for caiman via a car battery and headlight, hikes through the jungle to an oxbow lake known
to contain candiru and multiple species of piranha, including two carnivorous types, and where we swam briefly,
after the assurances of the resident naturalist that these same piranha would not bother us, nor would a large
noctural caiman, and at the end of the stay, we were forced to beat a hasty, premature departure due to a
dangerously-fast rising(13-feet, overnight) of the Tambopata River.


Wyoming, in 2011, where we went whitewater rafting in categorgy-3 rapids on the Snake River, took a 4-and-a-half
hour trail ride past coyote, pronghorn, etc. on the expansive Goosewing Ranch with panoramic views of the Tetons.
We also took several, excellent hikes along trails in both Yellowstone and & Grand Teton National Park, as well as
another three-hour trail ride at Grand Teton.



Costa Rica - a 2003 trip to the Papyagayo Gulf, Guanacaste region. Although we stayed at a nice resort, we also took
a river excursion and saw multiple caiman, parrots, toucans, scarlet Ibis, and monkeys, went zip-lining, horseback
riding along a rift valley, did some kayaking, Scuba-diving, slid down a half-mile mountain water slide, and visited
a natural hot spring, where we coated ourselves in volcanic pumice mud, and then rinsed off and relaxed in the very
warm spring water naturally-heated by volcanic vents.


500-mile Trek down the Nile from Cairo to Luxor - a ten-day solo trip in 1976, where after visiting the Pyramids, Sphinx,
the Egyptian Museum and other sights in Cairo, I traveled 500 miles by train (an adventure in itself) alongside the
Nile, to Luxor, where I visited nearby Karnak, the Valley of the Kings (including TutAnkhAmun's tomb), Queen
Hatshepsut's temple, the Colossi of Memnon, and the temple complex in Luxor.



Numerous SCUBA trips since 1989 - well over 100 ocean dives in Mexico, Belize, Honduras, the Bahamas, Hawaii, the
British Virgin Islands, Hawaii, Florida and the Carribean, during some 30+ trips since certifying in 1989. Some included
side trips to local archaeological ruins, raiforest trail hikes, kayaking or helicopter/small plane flights.


Multi-month Backpacking trips across Europe and the Mediterranean - In 1973, I spent 13 weeks backpacking through
10 countries in Western Europe, then spent some nine months doing the same in 1976-77, across Europe and the
Mediterranean, right after I got out of the U.S. Army. I took a shorter 5-week European backpacking trip with my sister
and brother-in-law, during the summer of 1978. Although some might not consider backpacking around Europe to be
adventure travel, when you do it on a $5-a-day or $10-a-day budget, as used to be possible (sometimes camping out),
and when you are living out of a backpack for several weeks like this, then yes, it is adventure travel, because
you are certainly going to encounter some adventures and challenges along the way.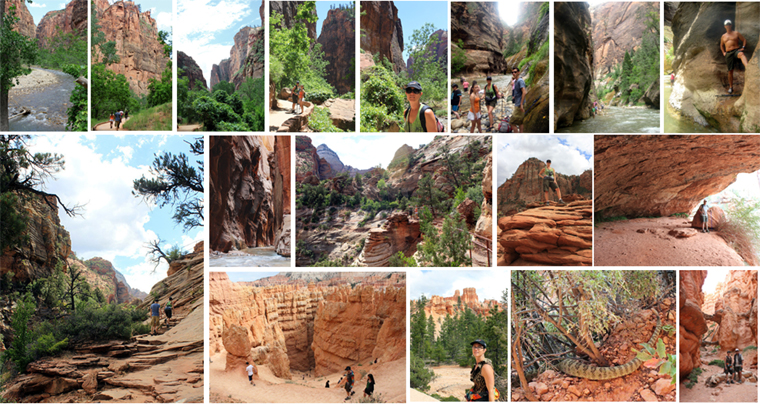 Although hiking in Zion National Park and at Bryce Canyon (both in Utah) are fairly accessible, I am still classifying
these as adventure travel, as they do consist entirely of outdoor treks down trails that require some advance preparation
(check the weather, for rain, and high and low temperatures for the day, prepare a day pack, water, snacks and
hiking poles), a reasonable amount of caution (possibility of flash flooding, rattlesnakes, falling rock, steep drop-offs
along narrow trails, higher than chest-high or slippery stream crossings, steep inclines, etc.), and a fair degree
of physical exertion. We did both locations in the summer of 2011, and both were really great hiking locations, with fantastic scenery.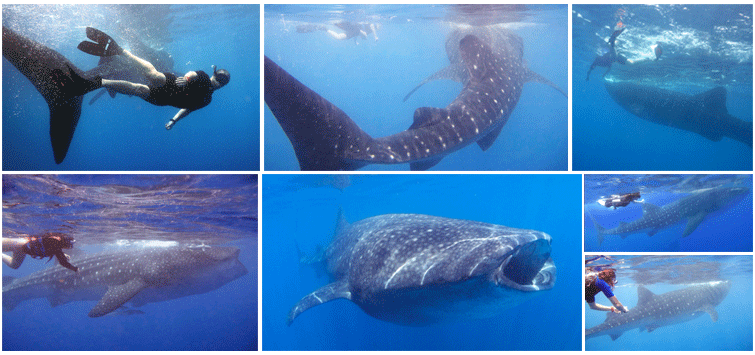 Swimming with whale sharks, in July 2014, 40 miles out at open sea, in the Carribean north of Isla Mujeres.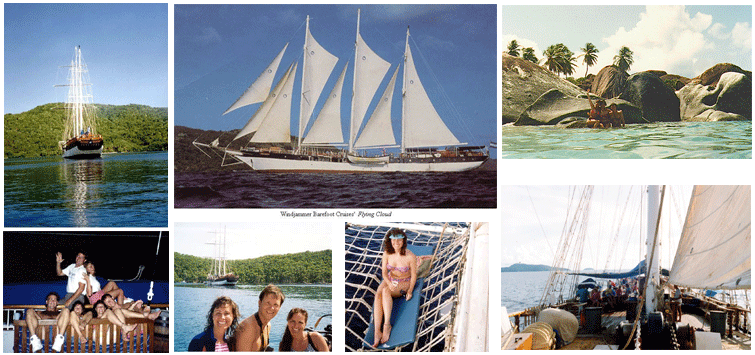 1992 Windjammer trip aboard the Flying Cloud, a 208-foot clipper, through sevral stops in the
British Virgin Islands. We started at Tortola, and stopped off at the Dog Islands, Virgin Gorda, Salt Island, Peter Island,
Norman Island and Jost Van Dyke. There were only 35 cabins, and about 60 passengers. It was great fun. Unfortunately,
Windjammer Barefoot Cruises went out of business in 2007, and the Flying Cloud was scuttled in 2009.


2015 New Zealand trip - a ten day trek across the South Island, including a 9-mile coastal hike in Abel Tasman National
Park, a steep hike to the summit of Rocky Mountain, above Lake Wanaka and Glendhu Bay, a three hour heli-hike with
crampons on Fox Glacier, and a visit to Milford Sound.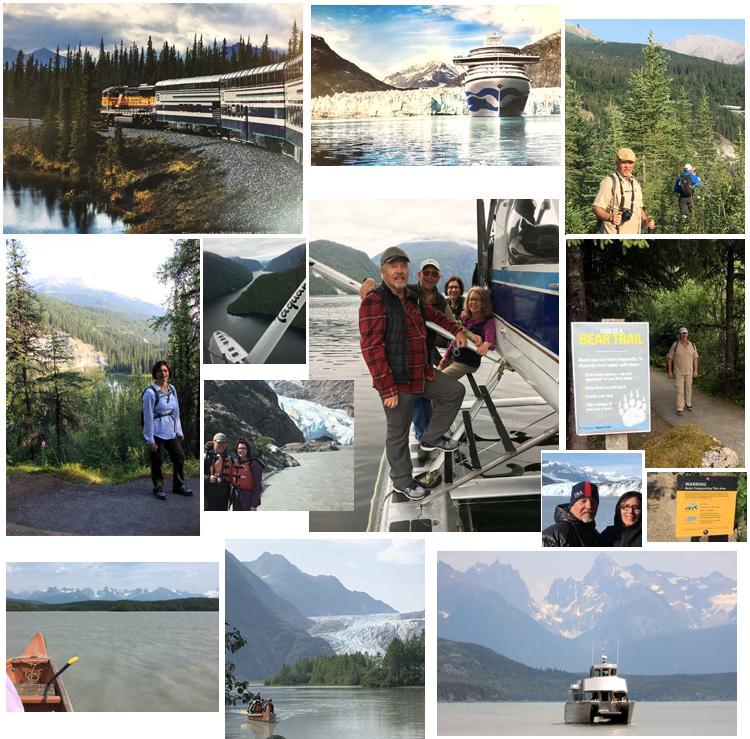 2019 Alaska trip - an inside passage cruise, with excursions that included a seaplane flight and landing in
Misty Fjords, many humpback whales, otter, porpoises, dolphins, seals and eagles, several moose and one bear sighting,
a smaller boat trip down the Lynn Canal (North America's deepest and longest fjord), a canoe trip across an icy lake
to go ashore at Davidson Glacier, and viewing numerous other glaciers from the ship. We also did several short hikes
along trails in Denali National Park and at Denali State Park.


Back to My Travel & Photos Page
RETURN TO HOME PAGE