<![if !vml]>

<![endif]>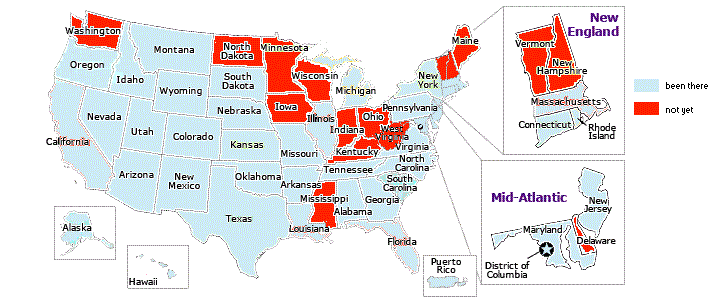 TRAVEL WITHIN THE UNITED STATES
Robin has been to 35 states and to D.C. :
AL (Birmingham, twice, and drive to Atlanta)
AR (en route to Virginia)
AZ (Grand Canyon & NP driving trip)
CA (Los Angeles, Monterey, San Francisco, San Diego)
CO (Rocky Mtn Natl Park, Estes park, Denver & NP driving trip, Winter Park, Crested Butte, Summit, Keystone, Breckenridge)
CT (Bridgeport, New London, New Haven, Mystic, Hartford, Waterbury, Danbury)
FL (Orlando, Tampa, Key West, Cape Kennedy)
GA (Atlanta to visit family, and I-85 to Anderson, SC in 2018)
HI (Honolulu\Oahu, Maui, Kuaui)
ID (Montpelier & NP driving trip)
IL (Chicago & St. Charles)
KS (wichita)
LA (New Orleans)
MA (Boston, Cape Cod, Provincetown)
MD (Columbia, Baltimore)
MI (Jackson)
MO (born in Joplin)
MT (NP driving trip)
NC (Virgina Beach, Ashville, and Charlotte-visit w/Winston & Tara Ashley, when diverted en route Cozumel, and May 2018, Old Mecklenberg Brewery)
NE (NP driving trip)
NJ (en route from Boston to Crozet & DC, plus a 9-hour layover at Newark airport in July 2017, and an overnight stay in 2018)
NV (Las Vegas)
NY (en route from Boston to Crozet & DC)
NM (Taos, Santa Fe, Angel Fire, Albuquerque & NP driving trip)
OK (born & lived there)
OR (Portland & Columbia Gorge area, in 2016)
PA (Allentown, Lancaster, Harrisburg, Frederick, etc.)
RI (passing through via I-95 through Prividence on way from Cape Cod back to D.C.)
SC (Anderson (Todd & Marsha 2018), and Thomas Creek Brewery in Greeenville, SC, and I-85 across the state to NC in 2018)
SD (Mt. Rushmore & NP driving trip)
TN (driving trip to Virginia with Staples)
TX (Dallas, Corpus, Houston, San Antonio, Austin)
UT (Zion and Bryce Canyon and Salt lake City - NP driving trip)
VA (Charlottesville, Williamsburg, Crozet, Virginia Beach)
WY (Yellowstone, Grand Teton & NP driving trip)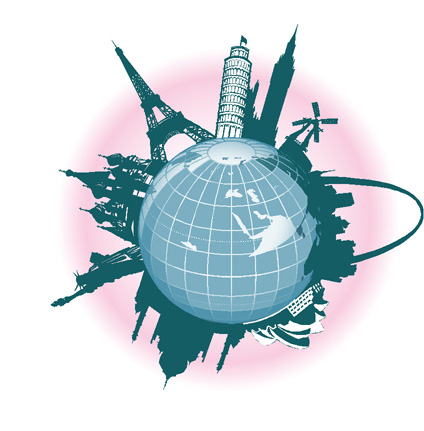 Outside the United States, Robin has visited every continent except Antartica, and has been to:
Costa Rica, Mexico, Honduras, Belize, St. Lucia, St. Kitts, Canada, Monaco,
England, France, Germany, Italy, Spain, Greece, Turkey, Morocco, Kenya, Peru,
Bahamas, Puerto Rico, the U.S. Virgin Islands, Tahiti\Moorea\Bora Bora, China,
St. Maarten, the Dominican Republic, the British Virgin Islands, Australia
Turks & Caicos, Jamaica, Ireland, Scotland, Austria, Switzerland, New Zealand and Portugal.