<![if !vml]>

<![endif]>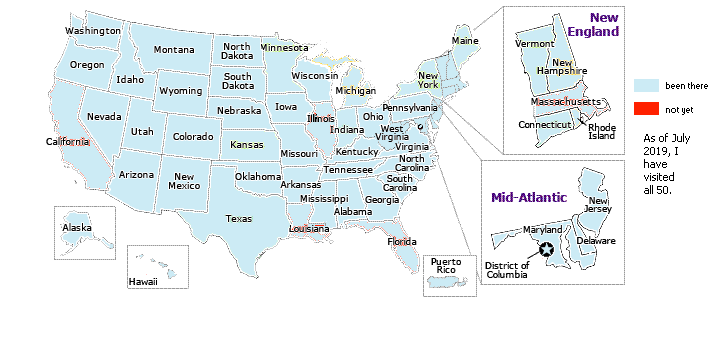 TRAVEL WITHIN THE UNITED STATES
I have visited ALL 50 U.S. States!
I have lived in 5 states:
Oklahoma (Norman (1971-72, 1977-81, and 1986-present), OKC (1952-1971), Tulsa (4 months in 1981))
California (lived in Monterey during 8 months of 1974, plus several visits to L.A., San Diego, Davis, San Francisco, San Jose, etc.)
Maryland (lived in Columbia in 1984 & 1985, occasionally worked in Baltimore, Bethesda, Rockville and in Gaithersburg, and visited a lot at Ocean City, etc.) also lived and worked in Washington D.C. in 1983 (Wisconsin Avenue)
Georgia (for a month in 1974, during my military service; Augusta, Ft. Gordon, and have visited Atlanta several times, since.)
Missouri (lived at Ft. Leonard Wood, for a few months in 1973, and have made frequent visits to Kansas City, Joplin, Springfield, St. Louis, Warrensburg, Kirksville, Columbia)
I have visited/vacationed in an additional 40 states:
Alabama (Gulf Shores, Mobile, Birmingham, etc.)
Alaska (2019 Inside Passage Cruise, Ketchikan, Juneau, Skagway, Glacier Bay, College Fjord, Whittier, Anchorage, Denali National Park, Talkeetna.)
Arkansas (Little Rock, Ft. Smith, Fayetteville - mostly for the kids' soccer tournaments, etc.)
Arizona (Tuscon, Flagstaff, Phoenix, Jacob Lake, North & South Rims of the Grand Canyon, Lake Powell, Glen Canyon Dam & Colorado River rafting, Page, Antelope Canyon, etc, and driving through to Monterey, and ROTC trip to Davis-Monthan AFB)
Colorado (Colorado Springs, Crested Butte, Breckenridge, Keystone, Denver, Winter Park, and other ski resorts, Estes Park, Rocky Mountain National Park)
Connecticutt (Bridgeport, New London, New Haven, Mystic, Hartford, Waterbury, Danbury)
Delaware (Rehoboth Beach, Wilmington)
Florida (Orlando, New Smyrna Beach, Pensacola, Tampa, Miami, Cape Canaveral\Kennedy Space Center, Sarasota - Lido Beach, Key West, etc)
Hawaii (Kauai, Honolulu, Oahu, Maui)
Illinois (Chicago & St. Charles, Normal, Bloomington, Springfield)
Indiana (Indianapolis, Gary)
Iowa (Ames, Des Moines)
Kansas (Kansas City, Manhattan, Cloud County, Topeka, Salina,Wichita, Overland Park, Olathe, etc.)
Louisiana (New Orleans, Baton Rouge, Lafayette, etc.)
Maine (Kittery, Bar Harbor, Southwest Harbor, Bass Harbor, Portland, Kennebunkport, Cape Elizabeth, Yarmouth, in 2015)
Massachusetts (Boston, Cape Cod, Provincetown)
Michigan (Jackson, Detroit, Mackinac Island) )
Minnesota (Minneapolis, St. Paul)
Mississippi (Biloxi, Mississippi City)
Montana (Gardiner and North Yellowstone)
Nebraska (Badlands and Oglala National Grasslands, Henry)
Nevada (Las Vegas)
New Hamphire (Gorham, Jackson, North Conway, Mt. Washington, White Mountains, Lincoln, Flume Gorge, Nashua, Portsmouth, Littleton, Bartlett, in 2015)
New Jersey(visting Aunt Marguerite in 1958, Newark, Edison, Cherry Hill, I-95)
New Mexico (Taos, Santa Fe, Albuquerque, Carlsbad Caverns)
New York (Manhattan, Statten Island, NYC, Statue of Liberty, Niagara Falls, JFK Airport, Laguardia, etc.)
North Carolina (Pinehurst, for a Planned Giving software class, in about 2001, flew into Raleigh, rented a car and drove down). As a child visited part of the Great Smokey Montains in North Carolina. Also on layover in Charlotte en routre to Cozumel, when we viosited with Winston ansd Ashley, and in 2018 to Asheville, and to Dupont State State Forest and Pisgah National Forest trails in 2018
North Dakota (Fargo, trip by AmTrak night trains from & to Minneapolis, in 2012)
Ohio (Toledo, in 1962 for Amatuer World Wrestling Championships)
Oregon (Portland and the Columbia Gorge area, in 2016)
Pennsylvania (Allentown, Pittsburg, Lancaster, Harrisburg, Frederick, etc.)
South Carolina (Columbia, and just across the border on the outskirts of North Augusta-GA, Greenville-2018, and Anderson/Lake Hartwell-2018, and I-85 to NC in 2018)
South Dakota(Mount Rushmore, Rapid City, Custer State Park, etc.)
Tennessee (Gatlinburg, Chatanooga, Knoxville, Memphis, Nashville, etc.)
Texas (Dallas, Houston, Corpus Christi, San Antonio, San Angelo, Austin, Denton, Plano, Abilene, Amarillo, etc.)
Utah (Zion National Park, Bryce Canyon, Red Canyon, Mt. Carmel Junction, Zion Mountain Ranch, Salt Lake City)
Vermont (Littleton, St. Johnsbury, Lyndonville, in 2015)
Virginia (Alexandria, Arlington, Crozet, Charlottesville, Williamsburg, Mt. Vernon, Monticello, Newport News, Roanoke (Holland's College), Richmond, Manassas, Shenandoah Valley)
Washington (Seattle)
Wisconsin (Eau Claire, day trip by bus from Minneapolis, via Hudson, Menomonie, in 2012)
Wyoming (Cheyenne, Cody, Yellowstone, Jackson Hole, Grand Teton, Snake River, etc.)
and I have just driven through 4 other states:
Idaho (Montpelier [stopped for lunch], skirted Bear Lake, Hwy 89, etc., en route to Salt Lake City from Grand Teton National Park)
Kentucky (Louisville, Lexington, I-64 )
Rhode Island (via I-95, coming via Providence from Cape Cod toward Virginia)
West Virginia (Martinsburg, I-81)
I have visited 43 of the 50 largest cities (by population) in the USA.
I have never visited the remaining 7: Jacksonville, FL, El Paso, TX, Milwaukee, WI, Fresno, CA, Mesa, AZ, Omaha, NE or Cleveland, OH.
<![if !vml]> <![endif]>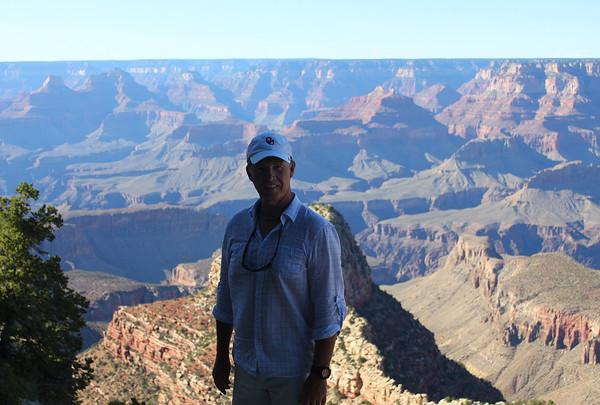 Click here for more USA travel photos
Or
Here for USA National Parks vacation photos
Or
Or
These photos serve a) as a personal/family photo archive, and b) to provide some of my international friends with glimpses of several of the beautiful and diverse
places to visit in the continental U.S., not to "brag" about all the places I have visited. Although I have indeed been fortunate to do a lot of travel around the world,
I also want to emphasize how many wonderful places there are to visit and sightsee across the United States